We are very happy to announce that our both CEO's, Martina Grom, CEO of atwork.at, and Siegfried Jagott, CEO of atwork.de, have been reawarded with the Microsoft MVP Award!
Martina and Sigi have expertise in Microsoft Office 365 and are recognized experts, book authors and conference speakers.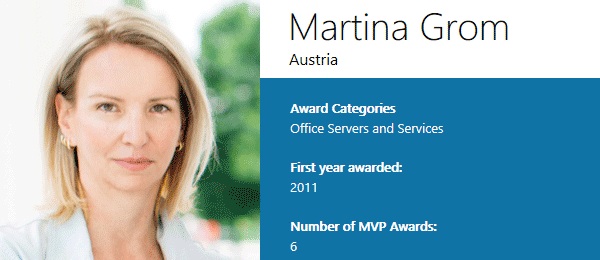 See Martina's MVP profile. Martina was awarded as Microsoft Regional Director as well in 2015 (see here and the new RD website)
Martina (@magrom) is recognized as an expert in Microsoft Office Online Services solutions and was worldwide one of the first 8 Microsoft MVP's awarded in 2011 for her expertise in Office 365. Martina is doing consulting companies on their way to the cloud. Her expertise is related to online technologies especially in Microsoft cloud services with Azure and Office 365. She helps companies in architecture planning toward cloud solutions. Martina has authored numerous books, articles and blogs and is a well known conference speaker. See Martina's about page.
See Sigi's MVP profile.
Sigi (@sigij) is an award-winning author of Microsoft Windows Server, System Center, and Exchange books by Microsoft Press and and has been writing and technical reviewing for several Microsoft Official Curriculum (MOC) courses. Sigi repeatedly is doing webcast courses for MVA. The latest courses are Managing Microsoft Exchange Online in Office 365 (December 2016) and Onboarding Messaging to Office 365 (December 2016).
What does it mean to be a MVP?
"Microsoft Most Valuable Professionals, or MVPs are exceptional community leaders who actively share their high-quality, real-world deep technical expertise with the community and with Microsoft. They are committed to helping others get the most out of their experience with Microsoft products and technologies. Microsoft has recognized exceptional, independent community leaders who share their passion, technical expertise, and real-world knowledge of Microsoft products with others."
We at atwork are proud to have three MVP's in our company and we are collaborating with other MVPs and experts as well in various projects. The MVP program connects many of our experts to deliver real solutions to our customers.
Congrats to Martina and Sigi and thank you for your great work for our communities!