The cloud train started some years ago. Today, it's no longer the question "IF you will use the cloud, but WHEN you will use the cloud". That's the direction IT is going. See my top five reasons why your organization and your IT can benefit from using cloud services.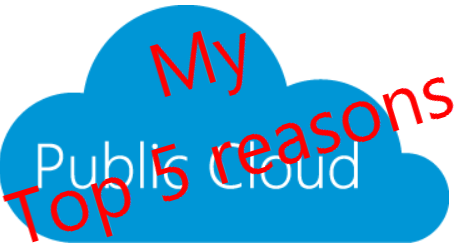 The following reasons are my personal ones and I am focused on the Microsoft cloud services. I am working with Office 365 and Azure a lot since the beginning. So here's my top 5 list for using PUBLIC cloud services:
Costs – Some services as Office 365 can be calculated per user, others as Azure follow the "Pay per use" model. Both can be calculated in advance. This is what CFO's love. Often, an organization starts using cloud services because of the calculation of their IT costs, not because of the other (maybe more valid) reasons. They know what they get for what price in advance, without hidden costs (as IT personal, energy, security, etc.).
Standardization (Scaling, Permissions, Monitoring, Reporting, etc.) – There is no individual Server Rack, no individual hardware or a button to "restart the cloud". All services are fully managed, monitored and automated. If for example a service does not respond within a specific time, it will be re-instantiated automatically. To be honest: Standardization is my favorite reason for the cloud. The cloud FORCES you to use standardized services. That's a good thing, especially if you have been in the IT industry for a long time and if you have seen customized solutions and shadow IT scenarios during your whole life. With standardization, there comes documentation, (automatic) scaling – often named as the "elasticity" of the cloud, permission sets, monitoring, alerts and notifications, and reporting more or less automatically.
Security – Believe me: if you aren't an organization that is specialized in security or a military or secret service or similar, your IT security quality will not be as good as the one of your cloud service provider. The big public cloud providers invest a huge amount of money in security, monitoring and standardizations as certifications. Security in the cloud is basis for offering public cloud services and there's permanent monitoring and protecting taking place. I am sure, much more than in most organizations. See more at the Microsoft.com trust center.
Automation – Well, all cloud services are maintained automatically and monitored. You can (and should) do the same for your services. For example, you can fully automate the provisioning of a server farm with some clients with specific configuration with ARM templates in Azure, use the Dev Lab service and a bunch of other cool features. Also, backups, ready to use clusters, Platform as a Service components and more is available in the cloud out of the box. To make it short: Automate as much as you can in and with the cloud.
Micro Services and Hybrid – My recommendation is to use the "best of breed" approach. Well, actually these are two topics, but I wanted to keep it short. There are so many cloud services out there, so I recommend: "Pick the ones you need and ignore the rest". Try to use little "black boxes" that are independently and move data between these micro services, for example with Logic Apps, Azure functions or own small secure Web APIs. You can integrate local resources as well. That's one of the huge benefits Microsoft offers in their cloud services. Microsoft is the only cloud provider offering hybrid scenarios in a big scale. So it's important that customers can decide what data and services they want to have within their on premises systems and what data is stored in the cloud. of course, there are mechanisms to encrypt data in the cloud automatically
Every IT project in the cloud we accompanied, benefits from a standardized solution and automatically allows scaling, monitoring and the use of all the varied services services. To see a quick, informal overview of services in Microsoft Azure, have a look at azureoverview.azurewebsites.net or at the Microsoft Azure website.
I wanted to keep this article and this list short. I hope this summary helps and delivers some arguments to think about cloud services and why they can help to modernize and improve your IT.
Benefit from the cloud (and contact us if we can support your organization on your way to the cloud)!